Both body and soul are important in building a beautiful person.
Based on our corporate philosophy, we have decided to do anything to please our customers.
To do so, we aim to create a "high-class salon that customers want to join," and in 2004, we obtained the certification for ISO 90001 for the first time in the esthetics industry.
It is proof that the quality and service we have been striving for to satisfy our customers have been recognized in the world. After obtaining the first ISO certification in 2004, we now have it in all stores except for the newly opened stores. We have become the leader in the esthetics industry by managing a world-renowned clean, comfortable, and sophisticated salon known for its refined hospitality provided for all our customers and our continued endeavor to develop new techniques, theories, equipment, and cosmetics necessary for creating "beauty." We were certified as NPO Spa Wellness Japan Association's Five Star Salon in 2011, and since then, we have been actively working to further improve our quality.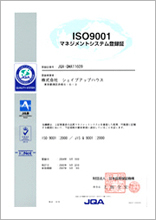 The Miss Paris Group - only thinking about how to put a smile on our customers' faces.
A salon is where the mind and body of customers are delighted, healed, and become healthy. There are seven quality objectives that have been carefully complied as we work to satisfy our customers.
If even only one of the seven was missing, we wouldn't be the Miss Paris Group.
We hold the belief that the Customer Comes First as we polish each and every item of our products.
We deliver world-class service to customers. And, we continue improving it. That is our mission.